"A city at the end of one kind of life, waiting for another to begin."
Biographer Andrew Motion referring to Hull poet Phillip Larkin's description of his home town.
"The future belongs to those who believe in the beauty of their dreams."
Eleanor Roosevelt
For the first time in a long while I took a stroll through the old city. It was a brilliant day, the sun doing its best to show off architecture bought and paid for in another age.
I started off at the top end of town, taking the stairs up from the soon to be revamped Forster Square railway station, one of two in this once world-class city. So close, so far apart, so illustrative?
We have a track record in the city for producing spectacular concepts; few ever rise from the architect's board. This one appears that it will.
Exiting on Manor Row where not too long ago we young bucks strutted each weekend, savouring the nightlife as if we were kings of the universe, I looked up at the magnificent buildings.
The facades have had a facial and look gloriously fresh, almost newly confident; hope flooded my veins.
There are numerous relics of the past around the city that merely need a scrub and polish but looks were never everything; on this street of all that we should know.
Set for redevelopment too is the old British Mohair headquarters, Midland Mills on Canal Road the subject of a few false dawns. Keep dreaming though as they simply do not build stuff like this anymore.
Heading off across the top of town and onto Darley Street, once the retail heartbeat of the city, soon I felt the cold shiver of desperation.
"Now main street's whitewashed windows and vacant stores" sang Springsteen in My Hometown.
Walking down a street once populated by most of the giants of UK retail, if tumbleweed had blown past I would not have been surprised.
The place reeked of abandonment and desperation, the people simply looked lost; Main Street has moved on.
Less than five minutes walk downhill shone the bright lights of the new Broadway centre. The knockers should take a look because, whilst this is not Leeds, it is very nicely done and there is more development in the offing.
Somebody, somewhere must think things are worth moving forward.
Before I succumbed to the glass palace, I sat for a while in front of the Town Hall.
In fact I sat for quite some time because this us one of the most beautiful buildings in the North.
There is so much to take in it is like turning the pages of a novel, unable to put it down. How could a city that built this and many others have fallen from grace so spectacularly?
The £30m pond was empty, a recent attempt at kick-starting the city's regeneration perhaps symbolising the size of the task. Money down the drain?
Across the water, like a wreck marooned on a shoreline stands the Odeon awaiting it's fate early next year, almost twenty years since being abandoned by all but a few determined individuals.
Alongside stands the once similarly unloved but now stunningly restored Alhambra theatre. Close by is the rebranded and revitalised National Science & Media Museum – see here.
If those holding political power are still unable to see the blindingly obvious they fail us all. Both venues have demonstrated people will come to our city; the Odeon will not disappoint.
Sadly – as recent events here prove – it has become a political plaything. We are not served by an impressive Council, that bit is true.
Walking back along Market Street I could not resist veering off to visit the imposing Wool Exchange, another survivor from a bygone era.
Things are happening in Bradford albeit slowly. As someone said to me: "Bradford is still a shithole but it's an improving shithole."
We cannot be Leeds nor should we try to be; all bubbles burst eventually anyway. And do not fall into the trap of believing Leeds is some economic miracle. All the city has done is reflect what has happened throughout the UK.
As traditional manufacturing has shrunk, those cities able to replace this with financial services have prospered whilst neighbouring cities have floundered. So trying to copy Leeds will not work.
Whilst once we were great and built temples to that wealth, these are harder times to feel proud of the old city but there is still a fierce determination to see better times in many Bradfordians.
Retail will not be Bradford's saviour alone and that is why schemes like the Odeon, derided by the doomsters, are so key to bringing back footfall and spending into the city.
Judging by a poll in the local rag, the Odeon has strong support; Bradford needs to find it's strut again.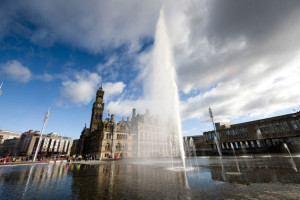 We can only do this by being different, confident and above all spotless; parts of the city are a "shithole" and the Council should recognise this simple truth.
The Idlelord will be taking a well-deserved break – cue a tsunami of laughter across Bradford – so see you in the new year.
Happy Christmas to you all and thanks for reading.